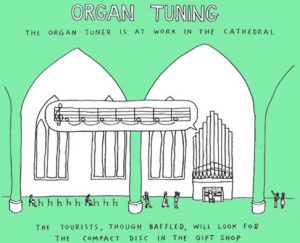 There are several ways you can prepare for a service visit, saving us time and frustration, and saving money for the church:
Be sure the church staff knows we are coming. Ask the custodians not to vacuum anywhere near the sanctuary the day of the tuning. Ask anybody who might want or need to make noise in the sanctuary to avoid doing so while we are working.
Have the keys to the organ console, chambers, and blower room ready. If you would like to provide us with copies of these keys, as well as the key to the church door, this will facilitate tunings, and also help if we ever need to make an emergency call.
Notify the organist, and ask him/her to either leave a note of any unusual problems on the organ console, or to send us an e-mail. That way, we can be sure we have addressed any special needs.
BE SURE THE HEAT OR AIR CONDITIONING IS SET TO SUNDAY LEVELS AT LEAST 8-12 HOURS BEFORE WE ARE SCHEDULED TO ARRIVE.
THIS IS VERY IMPORTANT!!