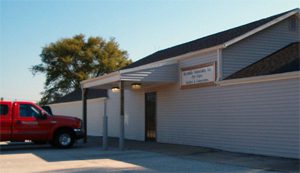 Reynolds Associates owns shop facilities located at 1737 West 3rd Street in Marion, IN. With over 5,000 square feet of production and storage space (and additional warehouse space off-campus), the shop supports our service and production needs. It includes space for a production office, wood shop, finishing room, assembly, console assembly, and a voicing studio. In this space, we often have two or three different projects proceeding simultaneously, allowing us to serve each customer efficiently.
Marion is a small industrial and farming community in Central Indiana. Our location keeps us close to our customers, and allows us to respond quickly to your needs. Our location in a small community is also consistent with our intention to be a low-cost provider of very high quality service.
Our service teams arrive at your church in clean, up-to-date trucks, clearly marked with our logo. Our technicians wear shirts with the same logo embroidered on them. Your church secretary and staff can feel comfortable that the people working in your church are responsible professionals.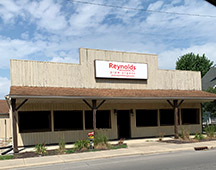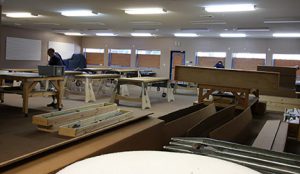 Announcement!  We are delighted to announce that we have purchased a new building (actually it's 18 years old) in Marion to extend our production space.  Our new facility is over 8,000 square feet, giving us a total of about 13,000 square feet.  This additional space will give us more production flexibility and efficiency.  So great was our need for expanded space that we started moving into our new building at 311 N. Washington Street the day we closed on it, and immediately it began buzzing with activity.
For now we plan to keep both buildings and to decide of the next months which aspects of production will be at the old facility and which at the new.  It's hard to believe, but we have been in our old shop now for over 20 years.
Pipe organs, even small ones, have thousands of parts, some tiny and some huge and heavy.  It is wonderful now to have a place to spread out!  Let us know if you're going to be in the Marion area.  We would love to have you visit!