Vice President and Shop Manager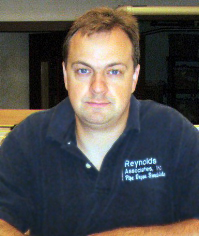 From an early age, David was involved in the organ business. In fact, he seems to have been born with a screwdriver in his hand!
David attended Ball State University, and has developed his mechanical and electronic aptitudes through continuing study and experience. An excellent woodworker, David is the master of the CNC router system and also designed, built, and operates the vacuum lamination system in the shop. These machines allow extremely accurate and efficient production of the components of our instruments.
He has constantly looked for ways to improve the quality of our organs, and to keep costs under control. David's understanding of complex electronic systems gives him the ability to diagnose and troubleshoot the modern solid-state control systems that are part of most new pipe organs.
David is a member of the American Institute of Organbuilders. He has participated in many continuing education opportunities, including factory training by suppliers. He is a gifted voicer, and has been responsible for revoicing several instruments. David is also an experienced organ tuner. During the spring and fall tuning seasons he is often in the field servicing organs for our customers.