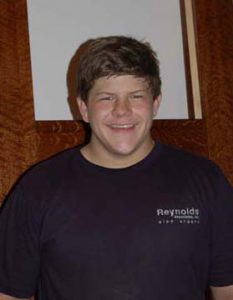 Cory Kline began work in our shop as an intern. He proved to be such a valuable asset to our operation, that we were eager to hire him when he graduated from high school.
Cory is involved in all stages of production and installation in the shop, including pipework reconditioning, chest and reservoir assembly, and finish work. He has a natural gift for the kind of precise work that our business requires. In fact, the first solder seam he made on a pipe – in training – looked as good as any master pipemaker could do! Cory has developed into a craftsman that can handle the most precise and difficult work throughout all the stages of a project.
He has also become a skilled operator of our CNC router system and vac-lam system.